Find out about our freight cost, standard delivery time, and customer assistance for ease of delivery.
Freight Cost

Freight cost depends on your location.

Zone 1: Freight is FREE within 800 kilometres of Perth to your property (access permitting) for 9,000ltr tanks and above. Alternatively, freight is free to your nearest authorised distributor.

NOTE
Additional freight charges apply for direct-to-property delivery on the following products:


Freight Charges (Direct to Customer)
Product
$82.50 inc GST
Water Tanks
Any tank or combination less than 9,000L
Troughs
PTM range, less than 5 units of any other trough
Cup & Saucers
Any tank or combination less than 9,000L
Liquid Fertiliser Storage Tanks
N/A
Liquid Transport Tanks (FNS, ST & DT)
Any tank or combination less than 7,000L
Firefighter Units
2 or less compact or skid mount units (excludes trailers)
Diesel Storage Tanks
N/A
Self-Contained Diesel Transport Tanks
All units (unless 5+)
Aquaculture Tubs
All units (unless 5+)
Septic Tanks
Any tank or combination less than 9,000L
Leach Drain
All units (unless with septic tanks with capacity of more than 9,000L)

Zone 2: For locations outside of Zone 1, please contact us for a highly competitive quote for delivery as per your requirements. We have the largest distribution network throughout Western Australia and our own fleet of delivery vehicles with the capability to deliver throughout Australia and further afield. We deliver when it suits our customers, not according to anyone else's schedule.


Zone 1 and Zone 2 Map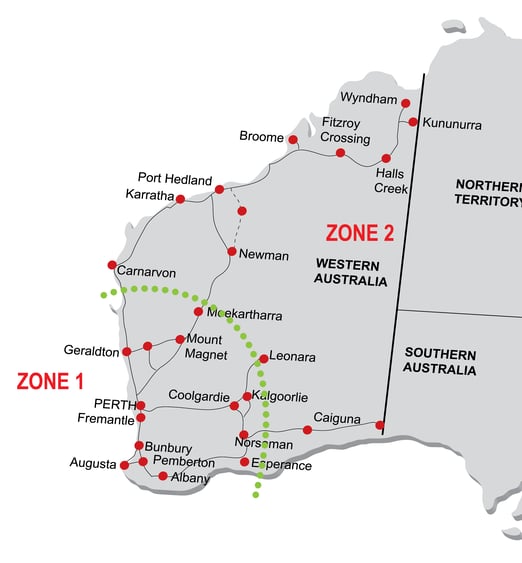 Standard Delivery Time


Our standard delivery times are typically 7 - 10 working days. However, this could vary depending on specific or unforeseen circumstances. We recommend that you confirm with us at the time of your order.
Assistance for Ease of Delivery


Please note that customer assistance is needed with tanks above 9,500 litres.

Depending on the size of your tank, we may need specific access requirements in order for our delivery vehicle to reach your property. Clear access on roads, lane ways, through gateways, crossings and trees are essential to ensure safe delivery of your tank without damage.

Recommended number of people for handling and maneuvering tank into place:


9,500ltr – 13,500ltr: 3 abled people (excluding our driver)
22,500ltr – 32,000ltr: 4 abled people (excluding our driver)
Tanks above 50,000 litres: Since these tanks are too heavy to safely maneuver by hand, either of the two options below is necessary.

Option 1 - The use of a machine to assist. This entails you shouldering the cost of a telehandler, forklift, or bobcat.
Option 2 - Our logistics team can arrange for the delivery and placement to be conducted using a Hiab equipped truck. This will be discussed and determined during the delivery scheduling call with you.
What if the driver cannot reach your location or access is limited to your tank pad?

If our driver cannot reach your location, the tank/s will be left at the closest practical location. You may need to have a smaller vehicle that will be able to transport your tank to the prepared tank pad.

For complete information on delivery, freight and trading details, please make sure to visit the link below:

Delivery, Freight & Trading Information